90th Anniversary Celebration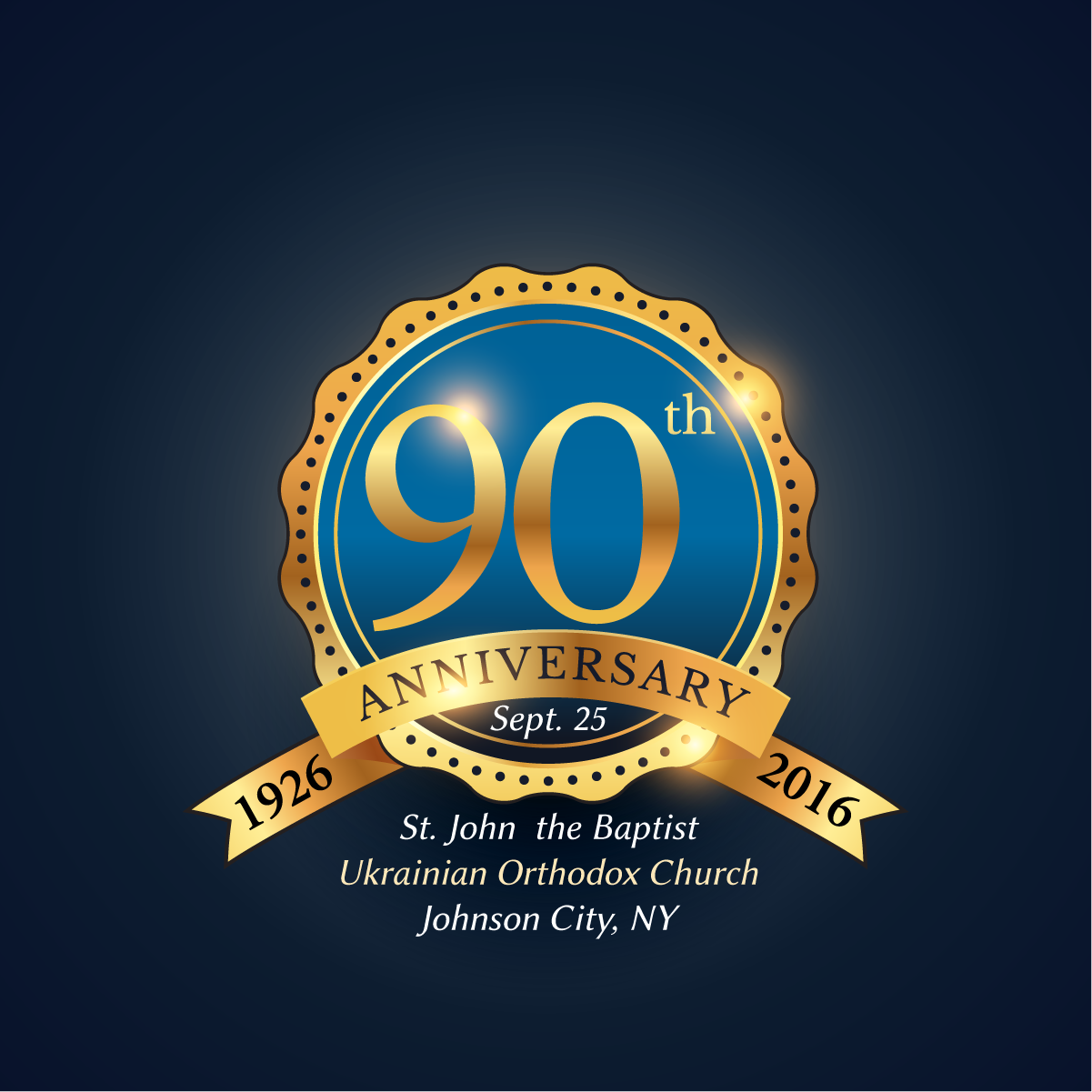 We invite you to join us in the Celebration of
90th Anniversary of our Parish

Sunday September 25, 2016

Archpastoral Divine Liturgy – 9:30 am
celebrated by
His Eminence Metropolitan Antony

A Family Picnic and
Pig Roast
To follow
Last Updated (Thursday, 18 August 2016 20:27)
Bulletin for August 14
Procession of the Honorable Wood of the Life-Giving Cross of the Lord (First of the three "Feasts of the Savior" in August)
The Procession of the Venerable Wood of the Life-Creating Cross of the Lord: In the Greek Horologion of 1897 the derivation of this Feast is explained: "Because of the illnesses that occur in August, it was customary, in former times, to carry the Venerable Wood of the Cross through the streets and squares of Constantinople for the sanctification of the city, and for relief from sickness. On the eve (July 31), it was taken out of the imperial treasury, and laid upon the altar of the Great Church of Hagia Sophia (the Wisdom of God). From this Feast until the Dormition of the Most Holy Theotokos, they carried the Cross throughout the city in procession, offering it to the people to venerate. This also is the Procession of the Venerable Cross."
Last Updated (Thursday, 18 August 2016 20:25)
Bulletin for August 7
Dormition of the Righteous Anna,
the Mother of the Most Holy Theotokos
Saint Anna was the daughter of the priest Matthan and his wife Mary. She was of the tribe of Levi and the lineage of Aaron. According to Tradition, she died peacefully in Jerusalem at age 79, before the Annunciation to the Most Holy Theotokos.
Last Updated (Thursday, 18 August 2016 20:24)
Bulletin for July 31
The Commemoration of the Holy Fathers of the First Six Ecumenical Councils.
In the Ninth Article of the Nicea-Constantinople Symbol of Faith proclaimed by the holy Fathers of the First and Second Ecumenical Councils, we confess our faith in "One, Holy, Catholic, and Apostolic Church." By virtue of the catholic nature of the Church, an Ecumenical Council is the Church's supreme authority, and possesses the competence to resolve major questions of church life. An Ecumenical Council is comprised of archpastors and pastors of the Church, and representatives of all the local Churches, from every land of the "oikumene" (i.e. from all the whole inhabited world).
The Orthodox Church acknowledges Seven Holy Ecumenical Councils:
The First Ecumenical Council (Nicea I) (May 29, and also on seventh Sunday after Pascha) was convened in the year 325 against the heresy of Arius, in the city of Nicea in Bithynia under St Constantine the Great, Equal of the Apostles.
The Second Ecumenical Council (Constantinople I) (May 22) was convened in the year 381 against the heresy of Macedonias, by the emperor Theodosius the Great.
The Third Ecumenical Council (Ephesus) (September 9) was convened in the year 431 against the heresy of Nestorius, in the city of Ephesus by the emperor Theodosius the Younger.
Last Updated (Sunday, 31 July 2016 21:46)
2016 Ukrainian Days Program Sponsors
2016 Ukrainian Day Program Sponsors
St. John's would like to thank the following businesses for making a commitment to support us, so please support them
Platinum Level
Hatala Orthodontics, PC JC Family Chiropractic
Johnson, Lauder, and Savidge, CPAs
F.S. Lopke Contracting Tchir Realty, LLC
Ukrainian FCU, Rochester, NY Ukrainian National F.C.U. NY, NY
Gold Level
Stephen Holowinski, JC Veterinary Hospital Marusich & Conti Dental, PLLC
M & T Bank
Silver Level
Dr. & Dr. Amar Bhandari Dr. Ramesh Bhandari Burns Tent Rental Inc.
Butcher Boys Coachmaster
Mark Dreher DDS, MD Lalor Family Dental
Bradley C. LaSorte. DDS. Matthews Auto
J.A. McCormack Sons Funeral Home
J. F. Rice Funeral Home Rocco J. Testani, Inc.
Vestal Dental Associates Visions Federal Credit Union
Last Updated (Saturday, 23 July 2016 22:38)
Donate to St. John's
Online Donations to St. John Parish are being accepted now.
Online Donation is through the secure PayPal system. You can also create monthly recurring payments wether you have PayPal account or not. So do not hesitate – just donate! Click the button below!
Last Updated (Thursday, 17 March 2016 09:05)